Passion, Innovation, and Excellence
The coupé-style yacht Pershing 5X is the introductory model for "Generation X," with which the sailing company celebrates its 30th anniversary. It was unveiled at the Cannes International Yachting Festival, where Pershing—part of Ferretti Group—continues to enjoy one success after another thanks to an original style and a sustained evolution that has revolutionized the open boat sector.
The Pershing 5X boasts an aerodynamic design with lines that fuse elegant and sporty features, along with an outstanding performance and innovating technologies.
This is the outcome of a partnership between Ferretti Group's Department of Engineering, its Product Strategy Committee, and the lauded naval architecture Design Studio Fulvio de Simoni. The yacht incorporates all aspects of industrial production efficiency, coupled with a long tradition and experience in the production of yachts, as well as craftsmanship –world-class Italian heritage.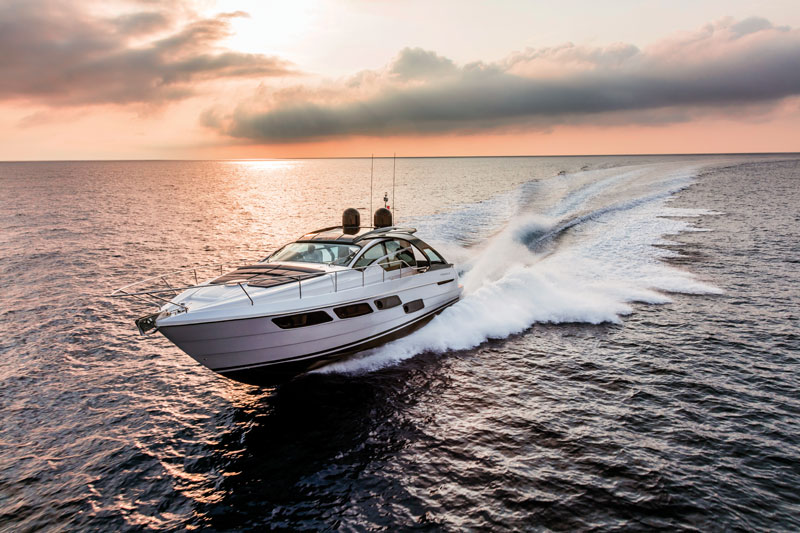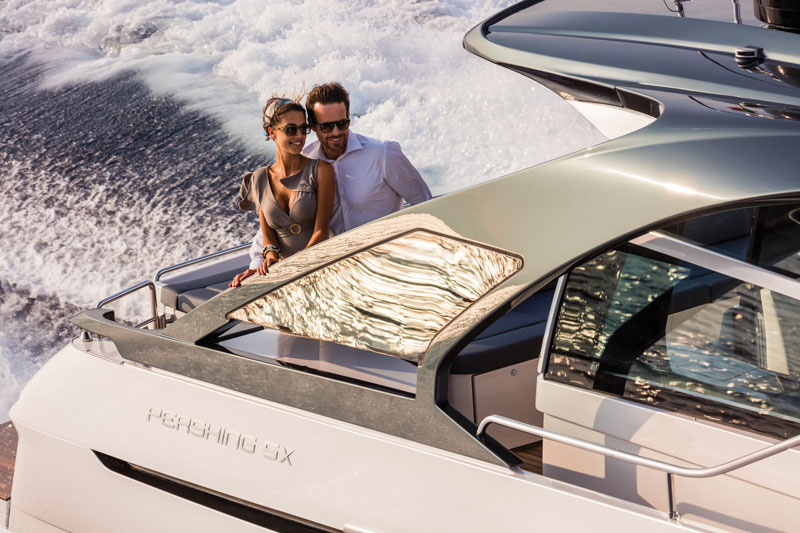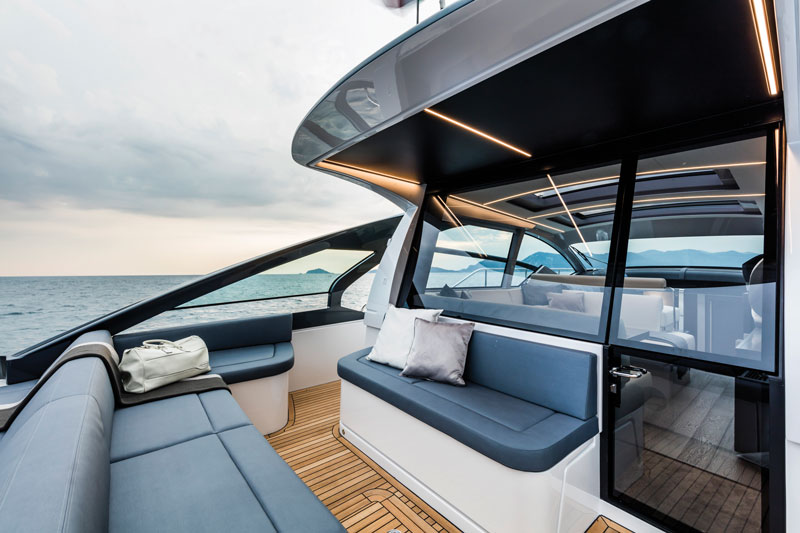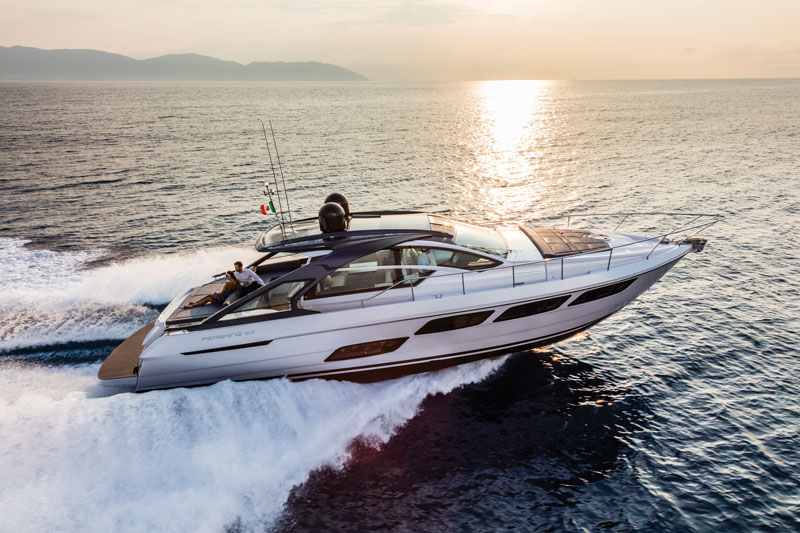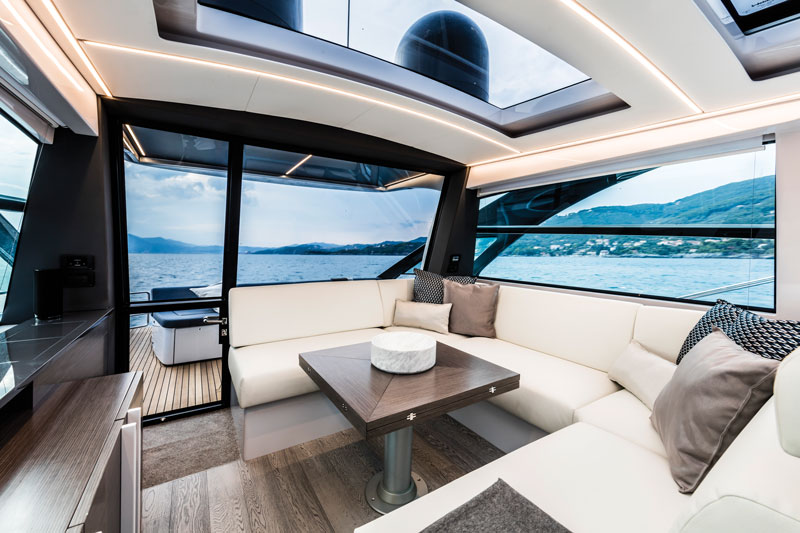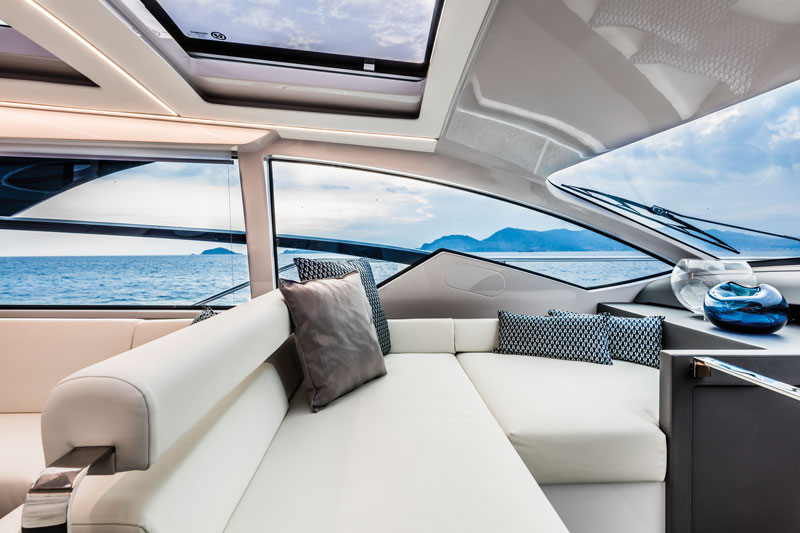 Much More Than Just the Essentials for Life at Sea
The Pershing 5X is 54.2 ft (16.51m ) long and 14.4 ft (4.38) meters wide, featuring lateral wings that act as cabin shields, a distinctive mark of the firm. It also has four windows on each side of the hull, each with its own elliptical hatchets. Its powerful motors can literally propel it above the waves at 45 knots.
Its platform can be submerged 2.8m underwater, and can easily be lowered by a hydraulic system.  It also features a safety function to set up a security fence up to 60cm deep, to establish a safe and shallow swimming perimeter. One can also access the garage from this platform; the garage has enough room for diving equipment and an airboat.
The cabin—with a large solarium, sofa, and resting chairs—can remain isolated from the rest of the ship, or connect to the main hall, thanks to an electrical opening/closing system that is integrated to a glass door that divides these two areas. This solution also allows the deck to be transformed into an open or closed area, from stern to bow, or, to separate the interior from the exterior, depending on the weather conditions.
The main cabin is furnished with llacquered frameworks and fabrics in soft gray tones, interspersed with more obscure details and contrasts that highlight the living room ambiance. The floors, of a greyish tone oak accented by other materials, present in all areas except the cabins, provide a relaxing and warm hue to the ship, emphasized by the abundant natural light coming in from the side windows. Furthermore, indirect LED lighting illuminates the ship at night.
The 5X is the first Pershing that measures less than 60ft. It includes a grand suite at the bow with an island-shaped bed, a small, independent living room, and private bathroom. Additionally, it has another double-cabin with a full bathroom. a smaller cabin can be fitted for crew.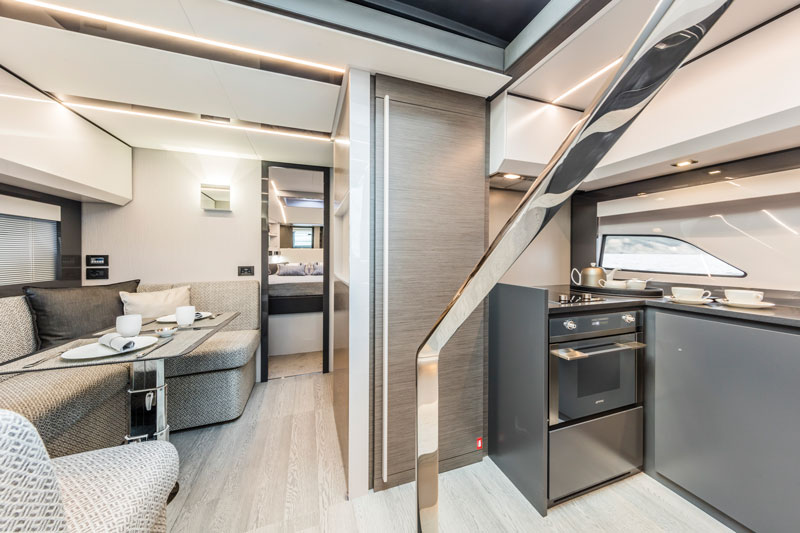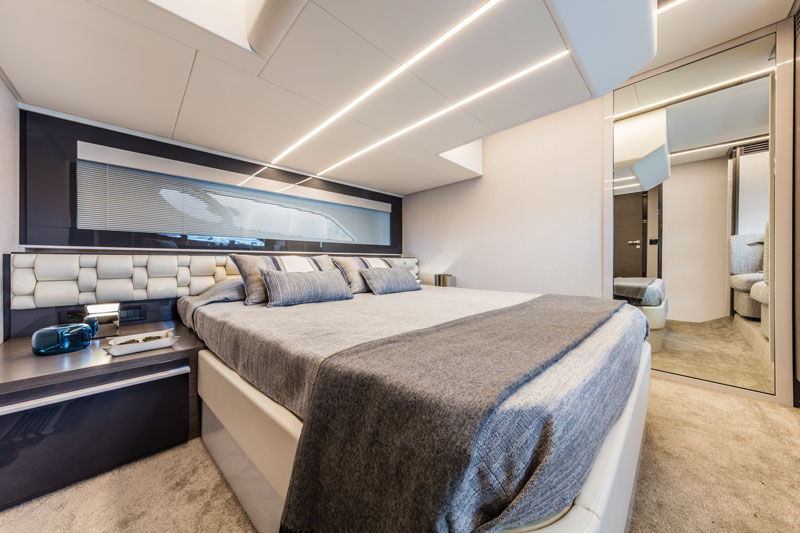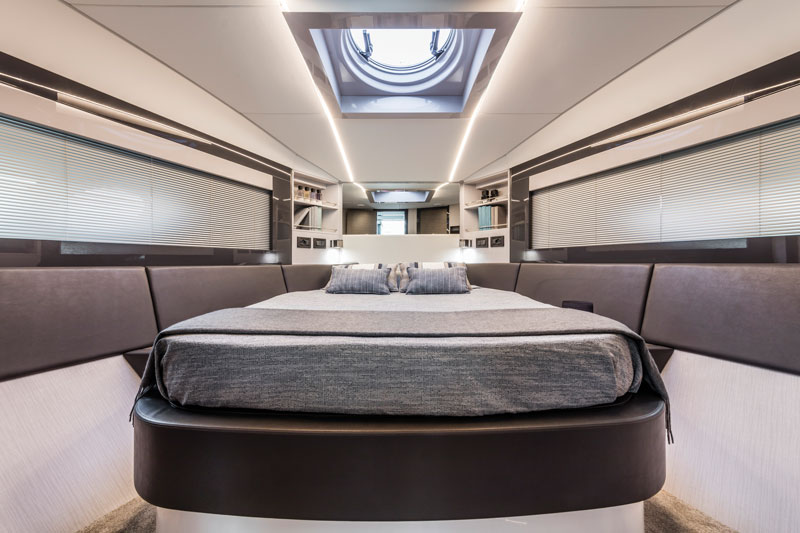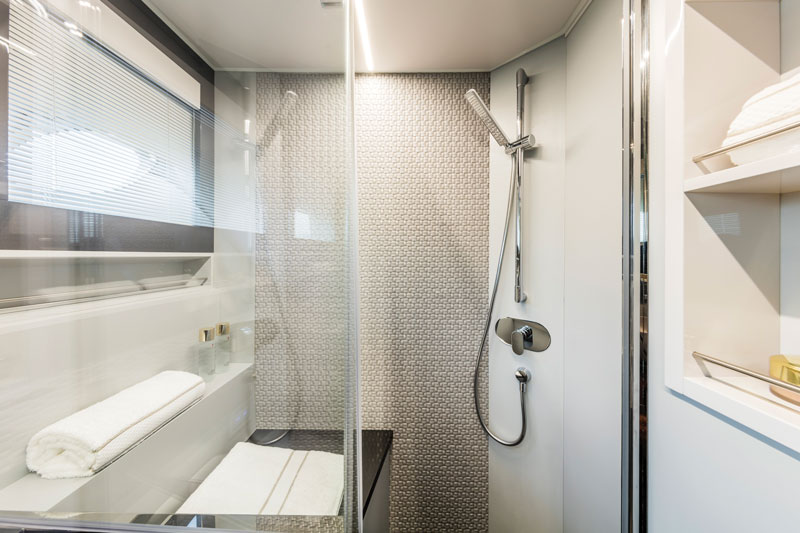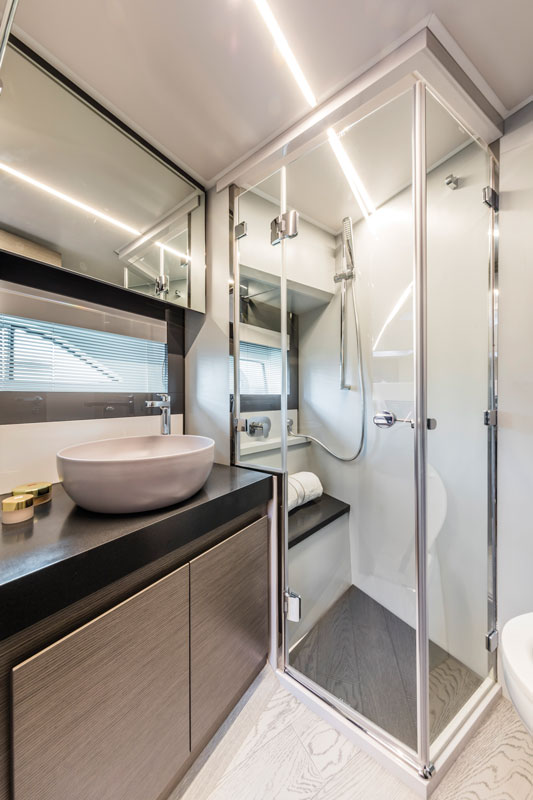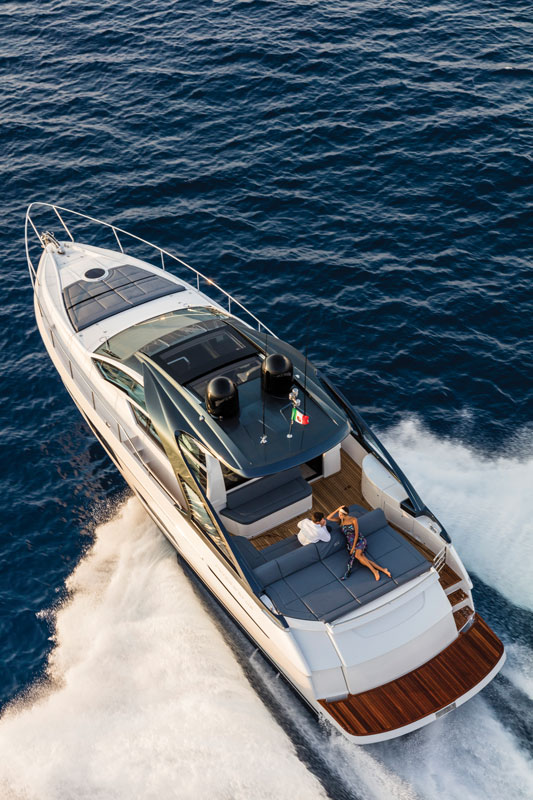 The owner of a Pershing 5X will be able to choose between two engine configurations: a pair of Volvo D11 IPAS 950 725 HP engines, producing a max speed of 35 knots; or a more powerful dual CAT 12.9 1,000 HP engine that can reach a maximum speed of 45 knots, and a cruising speed of 41 knots, in addition to the EASYJET technology, generally reserved for larger vessels. Moreover—and by request—the owner can add an EASY DOCK joystick, developed by Pershing Group and Top System, which improves maneuverability and which has been tested and used for the first time in this new coupé.
Specifications:
Length
16.51 m
Width
4,38 m
Draft
1,35 m
Displacement
20,9 ton
Engines
CAT12.9
Power
1.000 hp
Maximum Speed
45 nudos
Cruising Speed
41 nudos
Range
290 mi
Fuel Capacity
2.200 lit
Water Capacity
416 lit
Passengers
12
Text: Pershing Yachts ± Photo: Performance