The Most Significant Event  of Universal Sailing
Founded in 2007, the Extreme Sailing Series™ is an original sailing circuit that was specially designed to involve viewers from start to finish. It takes place near the coasts, and this allows people to be protagonists as well as witnesses of this privilege—to be able to follow the route of the boats by a perimeter where they're enjoying stadium-type visibility at all times.
The boats participating in the competition are ultralight catamarans with 12m long hydrofoils, with a total weight of 975kg, that reach around 39 knots (72 km / hr). They are guided by the best sailors in the world in GC32 catamaran competitions, in short circuits, capable of performing acrobatics with their boats, which seem to literally fly over the marine surface.
The 2017 global circuit took place in the following locations and calendars: Muscat, Oman | March 8-11, Qingdao, China | April 28 - May 1, Madeira Island | June 29 - July 2, Barcelona, Spain | July 20-23, Hamburg, Germany | August 10-13, Cardiff, United Kingdom | August 25-28, San Diego, USA | October 19-22, Los Cabos, Mexico | November 30 - December 3.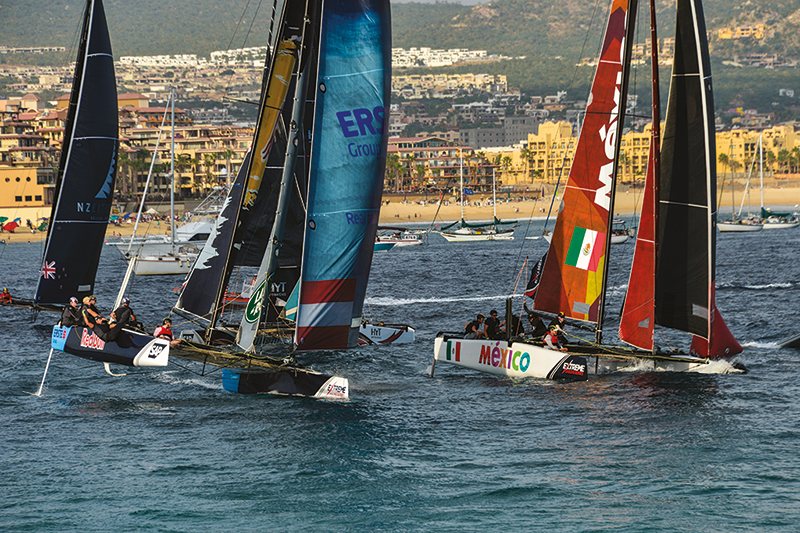 Land Rover is the series' exclusive automotive sponsor, whose importance and meaning for the company is summarized by its managers' following comment: As Exclusive Automotive Partner, we believe the Extreme Sailing Series™ captures the spirit of adventure that we enjoy at Land Rover. Speed, strength and capability in the face of powerful natural forces, together with skill, teamwork and composure are a winning combination both on and off the water. Our passion and commitment to sailing is reflected in Land Rover's Official Team, Land Rover BAR Academy, and its Vehicle Partnership with the Red Bull Extreme Sailing Team, led by double Olympic champions Roman Hagara and Hans Peter Steinacher." Land Rover has also established the creation of a talent scouting and development program for young British sailors.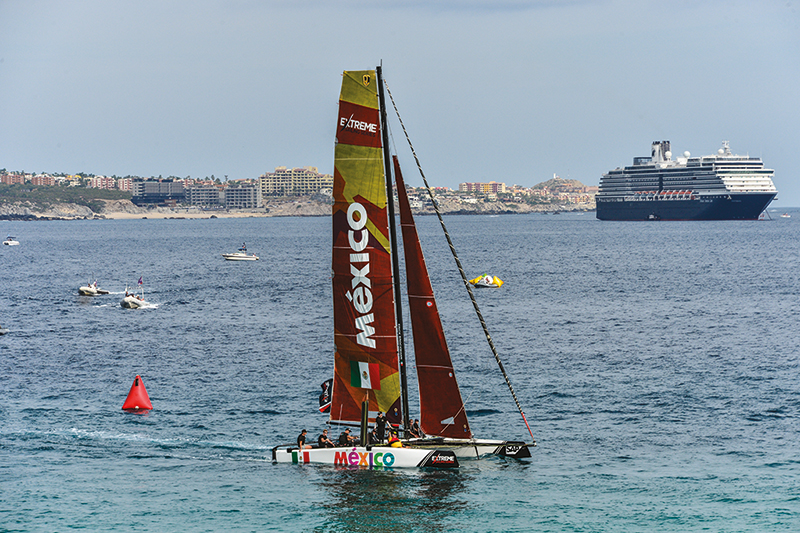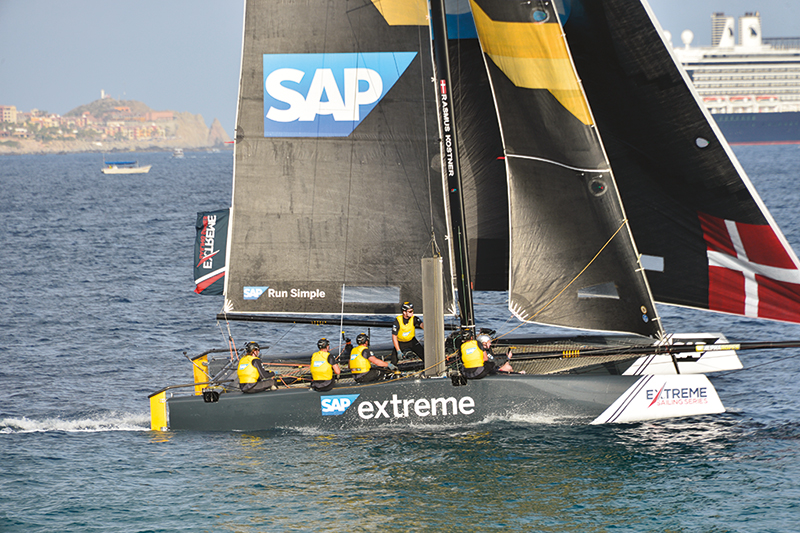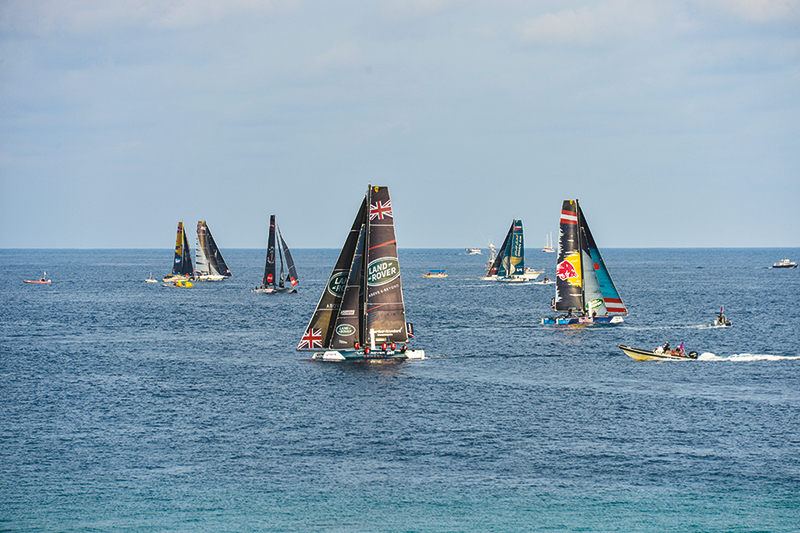 Los Cabos Hosted the Closure of the 2017 Extreme Sailing Series™
From November 30 to December 3th, the iconic regatta arrived in Mexico for the first time in its history. The teams competed to determine the champions in the waters of Los Cabos, in the southern tip of the Baja California peninsula—a place that is blessed with the most important weather systems because of its privileged geographic location.
The race was held a few meters from the beach, with free entry, to enjoy the race between the eight best teams in the world. It had a media platform that, is estimated, had an average impact on 180 million viewers and followers of social networks, globally. The crew of Team Extreme Mexico, who participated as a guest team, staged a great triumph when they got first place at the finish line in the final round of the event.
To choose the winners of the 2017 Extreme Sailing Series™, the scores obtained in each of their participations are added throughout the different events of the year.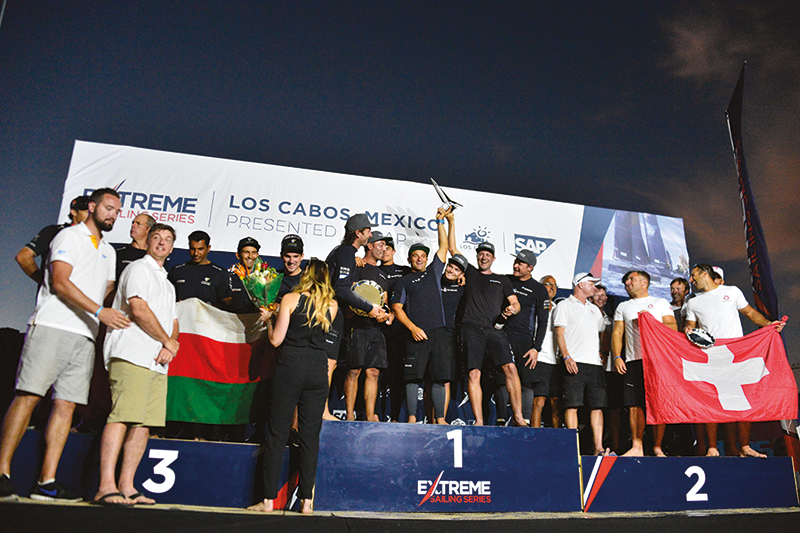 Position

Team

Score

1°

Alinghi (SUI) Arnaud Psarofaghis, Nicolas Charbonnier, Timothé

Lapauw, Nils Frei, Yves Detrey

224

2°

Omán Air (OMA) Phil Robertson, Pete Greenhalgh, James

Wierzbowski, Ed Smyth, Nasser Al Mashari

212

3°

Equipo de Navegación Extrema SAP (DEN) Rasmus Køstner, Adam

Minoprio, Mads Emil Stephensen, Pierluigi de Felice, Richard Mason

209

4°

Equipo de Vela de Red Bull (AUT) Roman Hagara, Hans Peter Steinacher, Stewart Dodson, Adam Piggott, Will Tiller

191

5°

Land Rover BAR Academy (GBR) Rob Bunce, Giles Scott, Oli Greber,

Sam Batten, Matt Brushwood

157

6°

Equipo de navegación extremo de NZ (NZL) Graeme Sutherland, Josh Junior, Harry Hull, Andy Maloney, Josh Salthouse

157

7°

Equipo Extreme México (MEX) Erik Brockmann, Chris Taylor, Alex Higby, Tom Buggy, Danel Belausteguigoitia Fierro, Armando Noriega Negrete

153

8°

Lupe Tortilla Demetrio (EE. UU.) John Tomko, Jonathan Atwood,

Matthew Whitehead, Tripp Burd, Trevor Burd

125
Text: Land Rover ± Photo: Ricardo Garrido •Land Rover