From California to Portofino
Ferrari has left California and moved on to Portofino. We are not referring to the locations, but to the 8-cylinder sports cars on its production line. Both cars are convertible with a retractable hardtop, but the new Portofino shows several improvements.
Engineers spent countless hours perfecting materials and methods of assembly. An example of this is the A-pillar, which is made of only two pieces, while the California used 21. Apart from improving weight, the sound of the Portofino engine is completely new. The exhaust line is innovative and is electronically controlled to emit a different sound that depends on the situation: ignition, the valves are closed for a moderate sound; comfort manettino, the valves are partially open for a comfortable urban sound; sport, the valves open completely to make a sporty and seductive sound.
The central touch screen is 10.25 inches; it has a secondary screen for the copilot, and adjustable 18-way seats. It also transforms from coupé to convertible in 14 seconds, and goes from 0 to 100km /h in 3.5 seconds.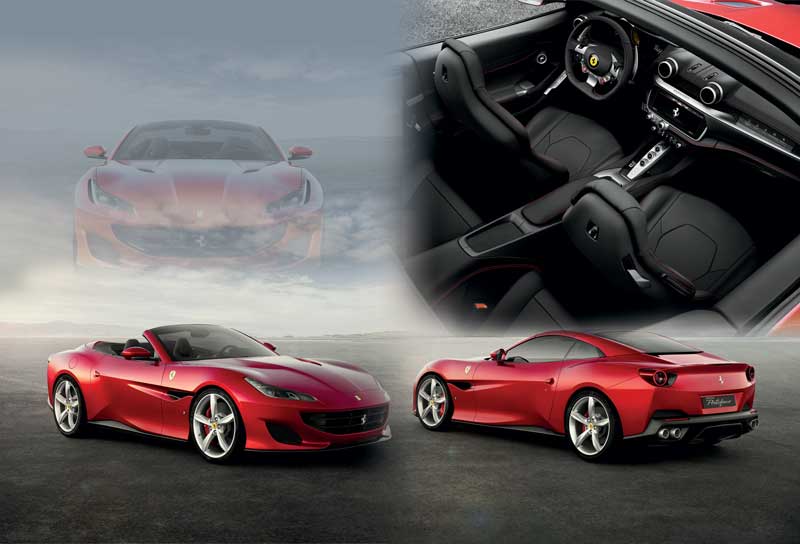 Specifications
Ferrari Portofino
Maximum speed
320 km/hr
Acceleration
3.5 s
Transmission
1 dual-clutch transmission
Displacement
3855 cc 600 cvm
Engine
V8
Fuel Consumption
10,7 l/100 km
Text: Daniel Marchand M. ± Photo: Ferrari Copyright 2017 – All rights reserved