Freedom on the surface and at the bottom of the sea
Ulysse Nardin has a particular interest in the sea, he new "Marine Mega Yacht", it is the continua-tion of "Marine" and the passion for the nautical universe, this time it represents the contempo-rary nautical prestige, the Nemo Captains current and the origins of the brand.
In 1846 Ulysse Nardin, built his reputation by the realization of complex pocket watches and the production of marine precision chronometers designed for international maritime companies that sailed the seven seas. From his first creations, Ulysse Nardin was distinguished by the innovation of his watches, whose precision was the most important. The importance of Ulysse Nardin has always been to equip large shipping companies that are looking for reliable instruments, necessary to ensure navigation at high seas.
In this occasion the president of Ulysse Nardin in America, François Xavier Hotier told us that Mexico is of great importance for the brand "there is a very beautiful story, because it was in 1875 that Ulysee Nardin equipped the Mexican Navy with the stopwatch", celebrate heritage in navigation. "Mexicans understand and know extraordinarily watchmaking: its complications, designs, technology, that is why it is an excellent market," he concluded.
The new "Marine Mega Yacht": it is built in the same spirit as a mega yacht, this line only has 30 copies in platinum, guarantees a power reserve of 80 hours. The design of the needles has been inspired by that of the old marine chronometers.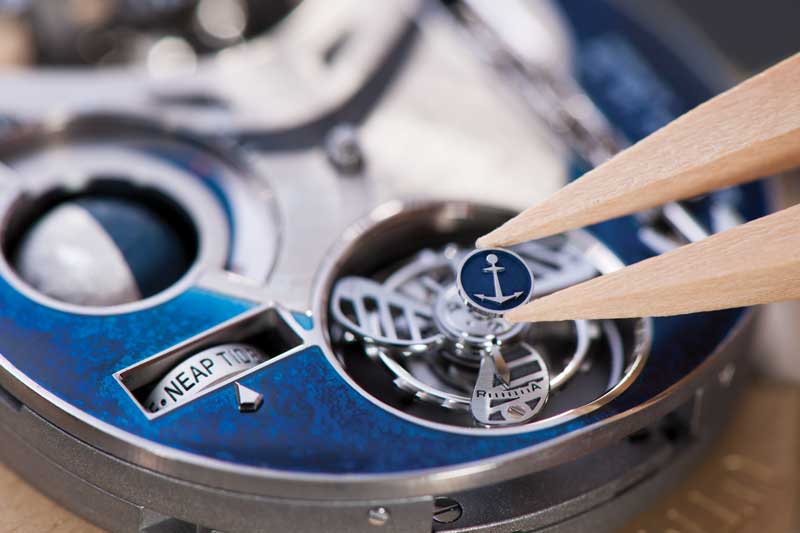 Text: Amura ± Photo: Ulysse Nardin