Don't give up, you still have time Accept your shadows, bury your fears free your burdens, fly again.
Poetry is the song of the soul. Those who write verses summarize their feelings in a magical space. Mario Benedetti gave the Spanish-American world a close—intimate perhaps—contact with poetry.
Very few writers capture the interest of a readership so diverse and faithful that they recite his poetry by heart along with a story of love or heartbreak. In the 80's, his verses danced in everyone's lips: "If I love you it's because you're my love, my accomplice and everything, and on the street elbow to elbow we are much more than two." This is a fragment of the poem "I love you", only an example, since his inspirations have been interpreted by authors and singers like Joan Manuel Serrat, Pablo Milanés, Daniel Viglietti, Nacha Guevara, Luis Pastor, Pedro Guerra, and many more.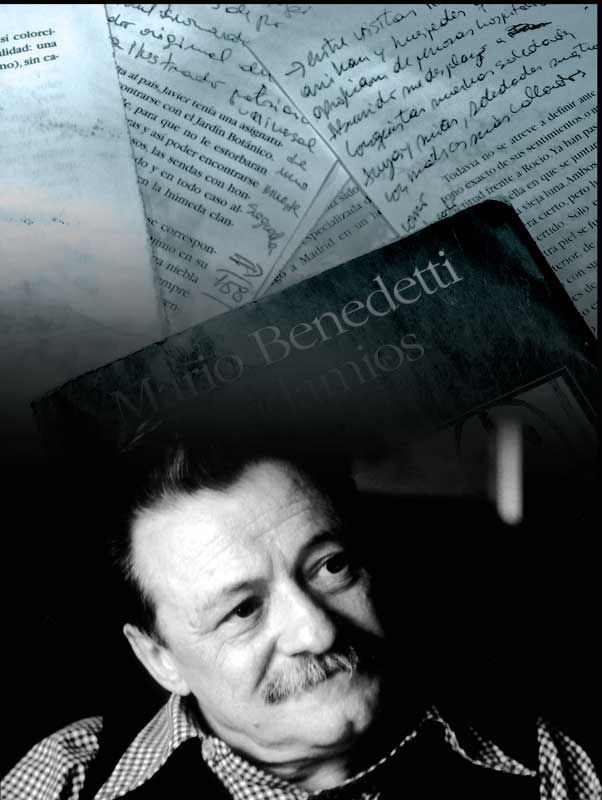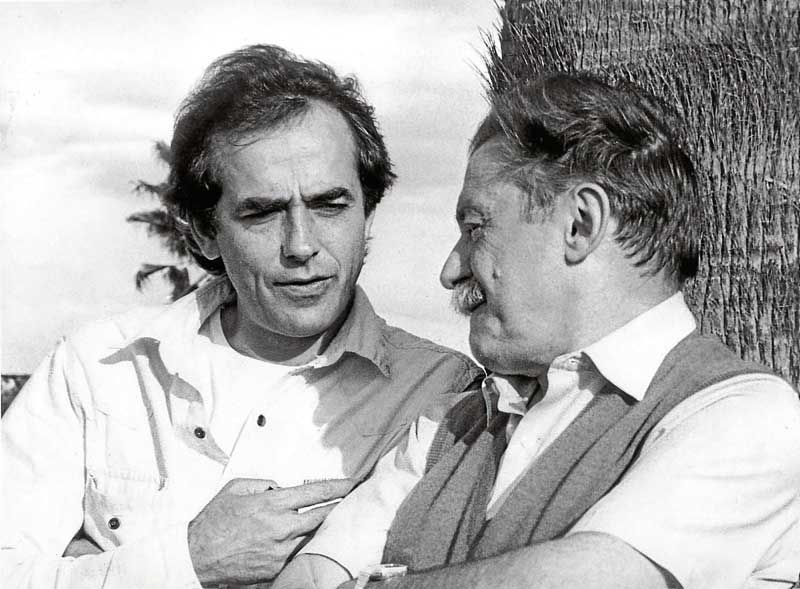 "The work of Mario Benedetti, friend, brother, is stunning in every way, whether it is due to the extensive variety of genres he covers, or because of the density of his poetic expression and the extreme conceptual freedom he uses. Benedetti's lexicon has deliberately ignored the supposed existence of 'poetic' words and others which are not. To Benedetti, language, all of it, is poetic."  José Saramago.
Don't give up, that's what life is
Continue the journey, follow your dreams, Unstuck time
A Universal Writer
Part of the so-called "critical generation," Mario Orlando Hardy Hamlet Brenno Benedetti Farrugia, universally known as Mario Benedetti—the most successful Uruguayan writer of all time—was born on September 14, 1920 in Paso del Toro, Tacuarembó department, Uruguay.
He had to abandon his studies at an early age because of different circumstances, so he can be considered as self-taught. In his youth, he learned shorthand and worked in different trades: as a bookseller, stenographer, cashier, salesman and public worker. He also studied German, which made of him the first translator of Kafka in Uruguay.
By then, his connection with the journalistic world began, and it lasted for a good part of its life. He was educated in this profession along Carlos Quijano at the emblematic Marcha seminar. After that, he founded and directed Marginalia magazine in Montevideo, the city where he also collaborated in El Diario and La Mañana. Later on, he wrote for the magazine Crisis in Buenos Aires, Punto Final in Santiago de Chile and the newspaper El País in Madrid, Spain. He was a leftist activist in Uruguay, reason why he was, like several intellectuals of his time, politically persecuted, a circumstance that led to a twelve-year exile, during which he lived in Argentina, Peru, Cuba and Spain. He also spent long periods in Mexico, a country he considered a place for encounters.
Move the rubble and uncover the sky
Don't give up, please don't give way...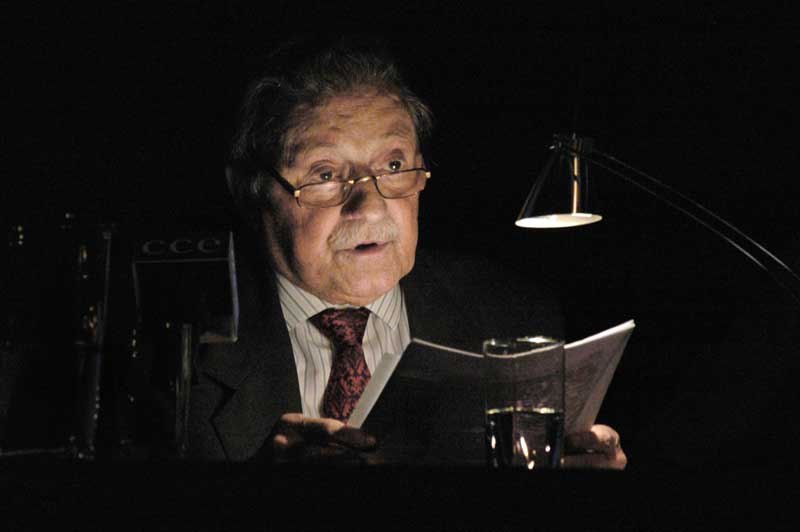 A Creator Who Cultivated All Literary and Journalistic Genres
Some say that while he read a book by poet Baldomero Fernández Moreno, he discovered his literary vocation. In 1945 he published his first book, Indelible Eve, but he wasn't truly successful until his eight of publication, Office Poems; the first edition sold out in only 15 days. Throughout his life, he established a solid career that encompassed literary criticism, poetry, essay, narrative and theater, and created a legacy that adds up to 80 books that have been translated in at least 30 languages.
Among the most widely read titles are Insomnia and Light-sleeper, Memory and Hope, Inventory Two, Life That Parenthesis, and Quotidian. His novels The Truce, and Thanks for the Fire have been adapted to film. As a playwright, his most prominent works are: The Report, Come and Go, and Pedro and the Captain. According to specialists, all of this versatility is unified in an unmistakable "Benedetti style". "I only have to write an opera," he used to joke.
He received countless awards, including the Reina Sofía Prize for Ibero-American Poetry, the International prize Menéndez Pelayo, the Bartolomé Hidalgo award to honor his career, and the Christ Boptev award from Bulgaria for his essays and poems. In Brussels, he received the Golden Flame Award from Amnesty International for his novel Spring with a Broken Corner. He was named Doctor Honoris Causa by the University of the Republic, and Illustrious Citizen of the City of Montevideo. His Author Library was the first space dedicated to a contemporary writer in The Virtual Library Miguel de Cervantes, and its Foundation appointed him as Patron of Honor, considering him one of the indisputable referents of contemporary culture in the Spanish language.
He wrote until his last breath, which occurred on May 17, 2009 at the age of 88, at his home in Montevideo. In his honor, the Uruguayan government decreed national mourning and ordered that his funeral was carried out with patriotic honors in the Hall of the Lost Steps at the Legislative Palace of Uruguay.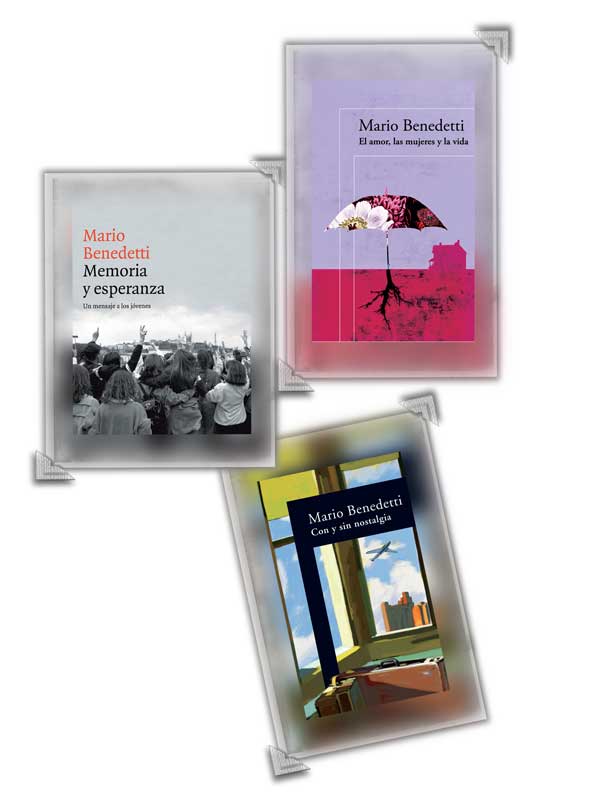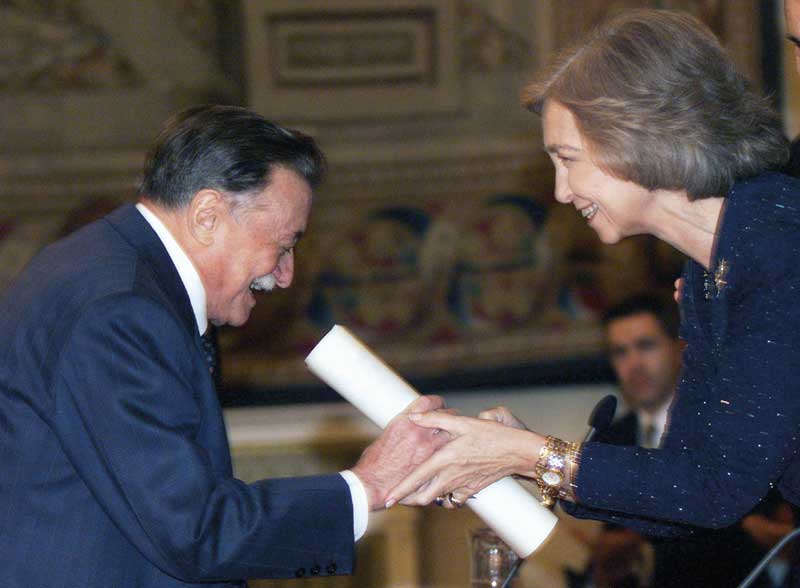 Because this is the hour and the best moment...
When poetry opens her doors
One feels like time embraces us
A gratuitous and novel truth
Renews our tame surroundings
When poetry opens her doors
Everything changes and we change with change
We all carry from infancy
One or two lines that seem like a motto
And we keep them in our memory
Like a reserve that is good for us
When poetry opens her doors
It's as if we were changing the world
(From the book Biography to Find Me, Mario Benedetti's poetic farewell)
Text: Mariana Mares ± Photo: BP / ENDI IMAGES / casa del libro / casa del libro / TGDAC