Diseño atemporal de alto perfil.
Henge was born in 2007, from a great dream and from a small group of very determined people.
Our identity, well defined right from the beginning, has established itself on the markets and has won, in a few years, reputation and interest on an international and national level.
Our commitment is to propose collections that know how to embody history and interpret contemporary living, high-profile furnishing solutions that are the result of sophisticated choices, exclusive materials, fine finishes, skilled Italian workmanship, refined design and attention to detail.
Henge is a research hub, where the common thread is creativity, which inspires innovative technical solutions and daring material experiments. It is a place of contrasts, where the Italian artisan experience is combined with modern technologies. We work with natural materials without creating anything artificial. We design so that objects can age together with those who have chosen them and acquire further charm through the patina of time.
The project was born from the desire to create a house entirely signed by Henge. The aim is not to respond to market demands, but to intimately understand the needs of the human being and try to respond to their needs in functional, emotional and aesthetic terms.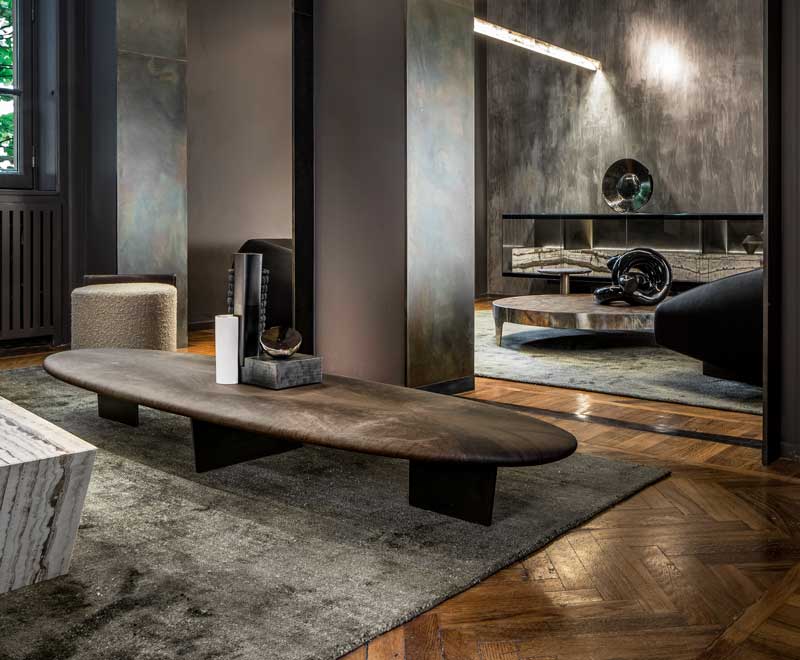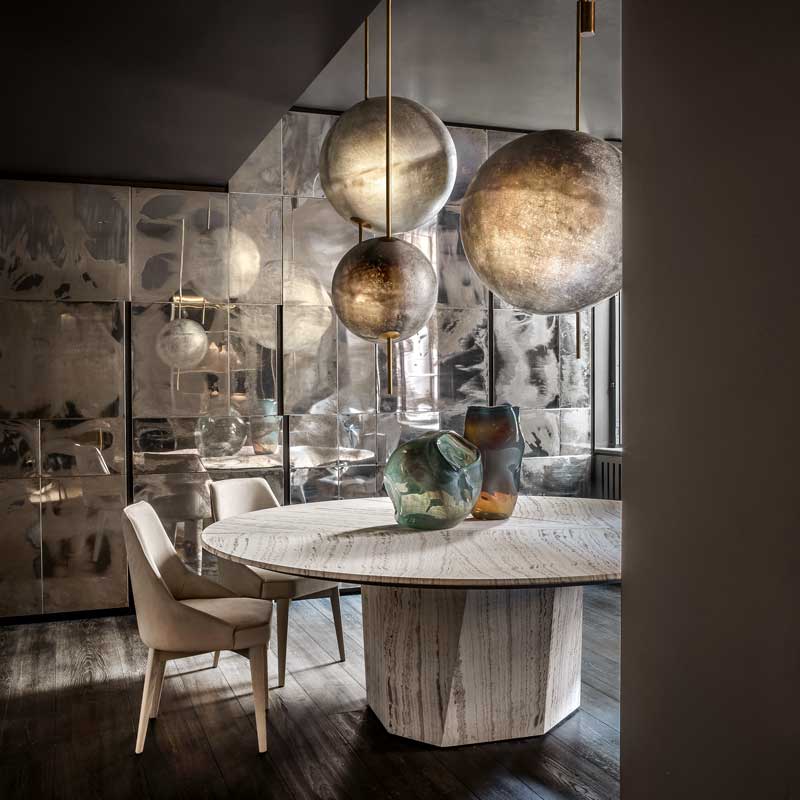 Following an original and intimate path, the architect Massimo Castagna, Creative Director of Henge, leaves his unmistakable mark in each collection: timeless, unique furniture, far from any formalism or predetermined style; shapes and geometries that are often unusual, in which the material, always treated and worked in an absolutely artisanal way, plays a leading role.
Among our iconic pieces we find the Light Ring Horizontal lamps and the Bistrot S bookcase available in different metal finishes, the Stealth dining table featuring a lasered metal base and stone top and the Lailand modular sofa.
Each year we present various novelties, and we enrich our material display with limited editions, from stones to fabrics, from finishes to metal patinas, all strictly natural and innovative.
For the collection #20, for example, we have introduced Wild Onyx and Okapi stones, and Phantom leather in black and dark brown variants.
The Teke Sideboard, resting on a thin steel base, was made of the special Wild Onyx stone, protected within a transparent glass case. The contrast between cold metal and warm stone ennobles its shape, giving it expressiveness.
In the lighting category, we presented the new Superb-All lamp: large fiberglass spheres, of different sizes, which seem to levitate in mid-air, pierced by long, tapered burnished metal tubes suspended from the ceiling. Charismatic in the single element as well as very scenic in the multiple combination, they warm up the atmosphere of any room.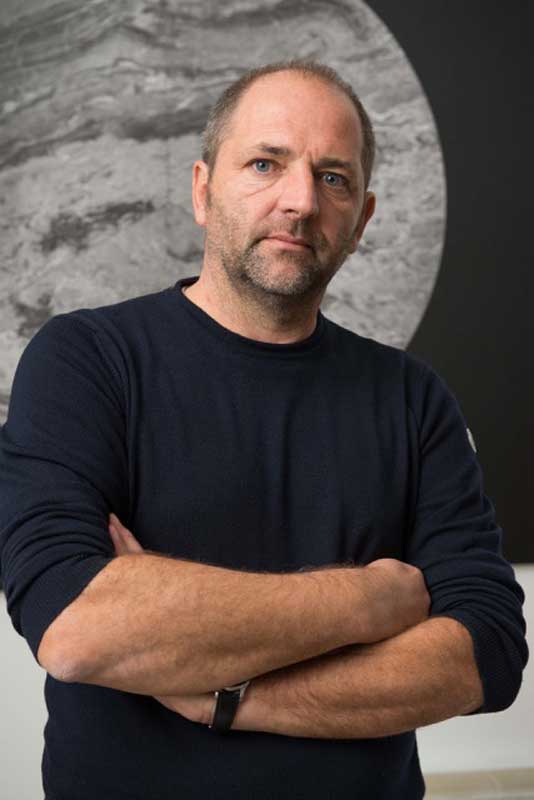 The new Downtown Sofa modular system stands out for a harmonious balance between the simple geometry of the shape and the feeling of comfort given by the softness of the particular goose down padding, present both in the seat and back cushions. Easy to fit in spacious, airy ambiences with a convivial atmosphere and in more intimate and private corners, it finds its best arrangement when are visually highlighted the sophisticated backrest supports in burnished metal, available in different finishing: steel, brass, platinum, titanium; brass or silver patina. 
HAJJ DESIGNLESS
Park Plaza Torre 2 Javier Barros Sierra No.540, Local N3-L22
Col. Santa Fé, C.P 05109, CDMX.
Tels: 5281 8728/29/46/47/48
Text: Henge ± Photo: Henge