"Your body is a temple of nature and of the divine spirit. Keep it healthy, respect it, study it and grand it its rights".
- Henri Frédéric Amiel.
Maldives is par excellence one of the most popular vacation destinations. A place where resorts offer visitors all kinds of wellness retreats with holistic therapies: within luxury resorts: Healing, touch and aroma spaces in charge of transmitting joy and serenity. A wellness journey to liber-ate, restore and recover.
The new Coronavirus crisis led us to maintain limited interaction with other people. Maldives then became the preferred destination for seclusion and comfort to bask in the sun in a stunning tropical location, on private islands with idyllic landscapes and temporarily forget about the pandemic.
Here wellness and hospitality converge in unprecedented ways with spa treatments, morning yoga and stretches that encompass ancient healing traditions and water activities that allow you to connect with nature.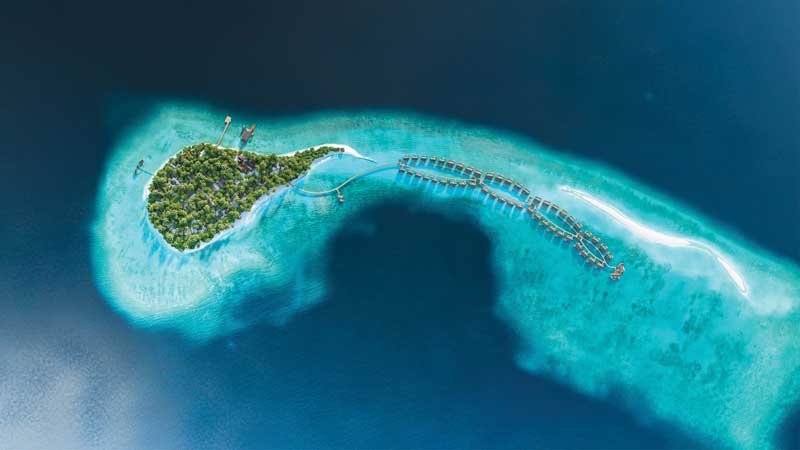 Located on the desert island of Maravandhoo, Joali Maldives Hotel is a luxury resort where sustainability and ecology are part of a concept that integrates architecture, decoration and the work of 13 international artists, making it the only immersive art hotel in the Republic of Maldives. It includes a museum of underwater sculptures and different pieces of art throughout the complex, for example: Heron chair – a tribute to the heron, the symbol bird of the Maldives – by Porky Hefer, who also designed and installed Manta Ray Treehouse, a hut built with natural materials and suspended in the trees to enjoy special dinners.
The project was designed by the architectural firm Autoban, which shaped the 73 villas, restaurants, spas, boutiques and common spaces. At the entrance, visitors are welcomed by a pier shaped like a manta ray, designed by the Istanbul-based Atölye4N studio. Its main restaurant, SAOKE, built by Studio Glitt, offers a menu of Japanese food.
In the Alif Dhall Atoll lies the Conrad Maldives Rangali Island, home to the world's first private underwater residence: The Muraka, designed by local architect Ahmed Saleem in association with New York firm Yiji Yamazaki. It is a slender top floor at water lever featuring a kitchen, living room, dining room and three bedrooms; an additional suite is completely submerged, simulating an aquarium, lined with seven-inch-thick curved acrylic walls.
According to the architects, the idea for this luxury residence came about because "the Maldives is known for its pristine beach and sea; the ocean views are breathtaking, but that is only half of the beauty of the place, the other exists underwater." Passengers arrive at the villa in a private seaplane to gain access. A wooden jetty will greet them to lead to the top floor. A spiral staircase or elevator will descend to the 100-square-meter suite.
An infinity pool with views if the Indian Ocean is part on the additional amenities at the residence. The experience is complete with 24-hour private service, personal chef and personalized experiences.
Incomparable, original and ecologically innovative, the Hurawalhi Island resort, opened in late 2016, is home to the world's largest underwater restaurant, a tropical champagne pavilion, elegant villas and a glimpse of paradise of its own, considering its prime location amidst coral reefs in the Lhaviyani Atoll.
The resort, also designed by Yuji Yamazaki, is for adults only and features modern, minimalist accents. The star attraction: The 5.8 Undersea panoramic restaurant that literally allows you to dive and taste delicious dishes by chef Warren Moore, at a depth of 5.8 meters. Since 2019, the venue stands out for having introduced a vegan haute menu, bringing the global trend of vegan cuisine, which combines the influence of Asian fusion, to the resort's crown jewel.
Renowned as the 'Best Luxury Destination Spa in the Maldives', JA Manafaru Maldives in Haa Alifu Atoll, is famous for its crystal-clear waters, palm-fringed beaches and commitment to providing a relaxing and rejuvenating stay.
It offers world-class dining and diverse experiences that celebrate the beauty of the Maldives, it consists of 83 oceanfront and overwater villas and bungalows. In 2019, it was recognized as 'Indian Ocean's Leading Honeymoon Resort', 'Indian Ocean's Leading Hotel Suite' and 'Maldives' Leading Hotel Suite'.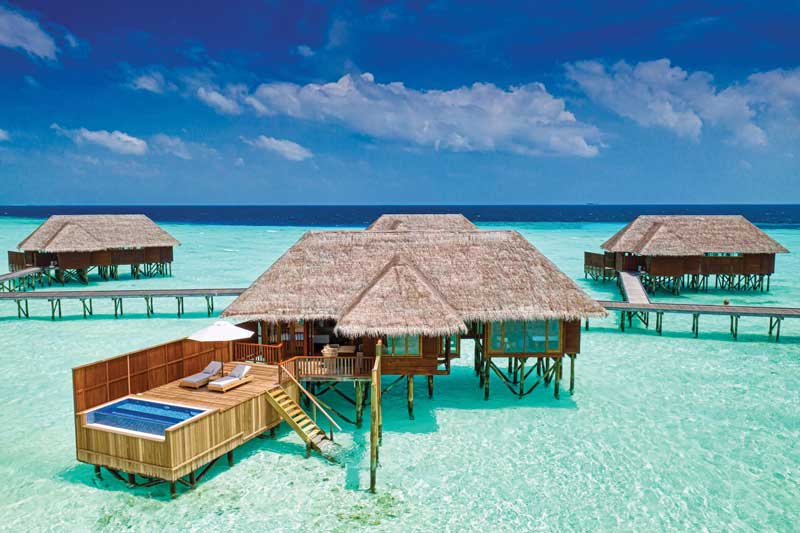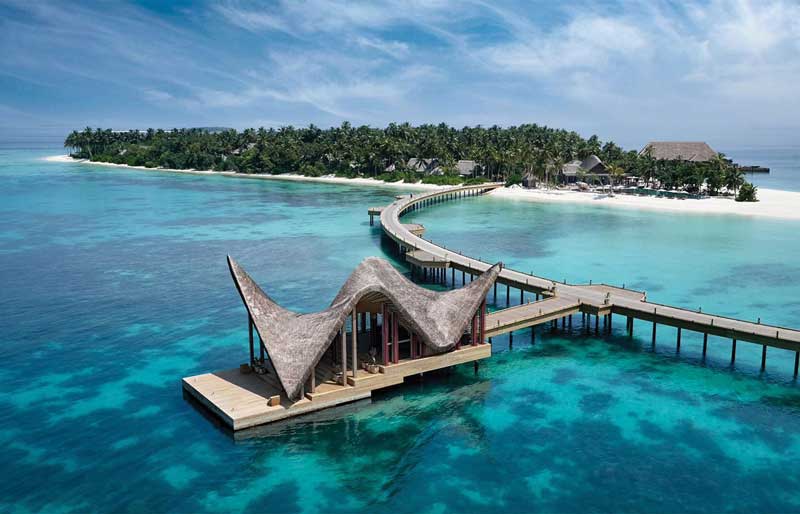 Located on Meeru Island, at the easternmost tip of Malé's northern atoll, Duniye Spa rises as a healing space. Founded in 2002, it has twice (2016 and 2019) won the 'World Luxury Spa Awards'. Its newest addition is the Kagi Maldives Spa, which reveals the true essence pure life. Among its different therapies are sound healing, yoga, holistic health coaching, reiki, crystal and retreats.
With three different types of villas, it is the ultimate in seclusion and comfort, allowing you to dive directly into the ocean from the terrace or float above it in the private pool.
Malé´s southern atoll is home to the epitome of understanded elegance. COMO Cocoa Island offers the experience of staying in its private villas shaped like floating boats (dhonis) with breathtaking views of the beach, where diving and snorkeling in warm reef waters will be just some of the main activities.
Officially called Mukunufusahi, Cocoa Island is just one of more than a thousand islands that comprise the Maldives and can boast of being one of the most special as it is a small but perfectly formed strip of sand surrounded by shallow waters. More than 30 years after being inhabited, it is already a tropical paradise that offers a total escape from everyday life to practice yoga or dive into the easily accessible coral reefs full of marine life.
Being governed by an integral environment policy, buildings in the Maldives are entirely made of natural materials, with thatched roofs, coral rock walls and wood. The clean-lined aesthetics and abundant natural light make the islands the ideal place to meditate and recuperate, putting them at the top of the list for healthy vacations. A destination where not relaxing is impossible: Sky above, earth below, inner peace.  
Text: Alejandra Cañedo ± Photo: revista q, true 5 stars, Cocoa Island, pretier, minotti, joali, Trivago, TRAVEL ISR