Splendid fortress under the shadow of Amber Fort
A fountain stands under the overpowering sun of Jaipur. Past this, a great hallway depicts the various legends of the rajput with paintings on pinks walls. Inside this defensive fort, a door opens and guests are taken into an elegant salon filled with flowers and refreshing drinks. It is an area surrounded by other salons and patios that extend as far as the eye can see. An enchanting place perfectly suited for long romantic dinners.
"Namaste," we say, our palms pressed together. We prepare for an adventure in this magnificent hotel at the foot of the Amber palace-fort. Outside, the fountains in the gardens create colorful rainbows.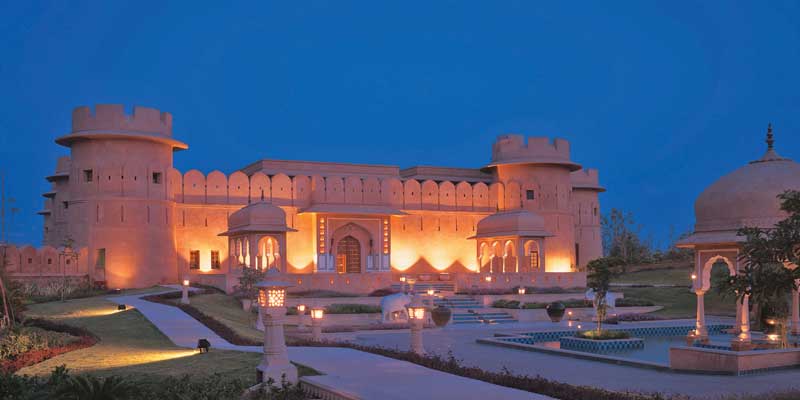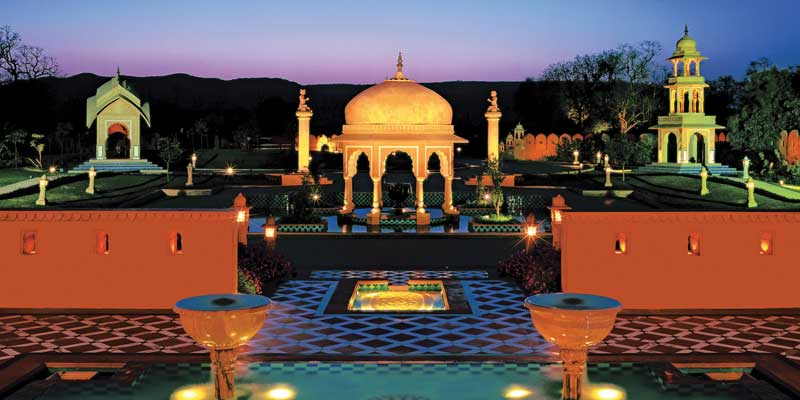 On the other side of the hotel, we find a pool flanked by two marble elephants. A nearby spa offers the most thorough oriental massages in rooms teaming with the aroma of native spices and plants. The air here is filled with the songs of birds, with butterflies, and the chanting of peacocks; worthy of a Bollywood soundtrack. Concerning the hotel rooms, suites featuring living rooms, a private garden, and a pool. The Rajvilas is truly a hotel straight out of a fairy tale.
Oberoi has placed great attention to detail in the creation of their hotel-villas. Other notable examples include the Amarvilas, in Agra, which is not only a luxurious palace but also the place where guests can enjoy some of the finest views of the Taj Mahal. For its part, the Vanyavilas is a 5-star campground featuring tents at the gates of the Ranthambore National Park. Travelers would be wise to explore all these options when visiting the jewel that is Jaipur.
Info
Oberoi Rajvilas Jaipur
Babaji Ka Modh, Goner Road, Jaipur, India
Tel. +91-11-2389 0606
Text: Patrick Monney ± Photo: BEROI HOTELS