IMPERIALE by Chopard introduces 25 limited edition timepieces in 18-carat ethical pink gold, featuring the lotus flower as its protagonist.
The lotus flower has historically been closely associated with the sun. As per Egyptian legend, the sun rises every morning from a lotus corolla, only to withdraw into its petals at sunset. Chopard looked to nature to create this exclusive IMPERIALE collection and drew inspiration from it.
The watch's dial, adorned with sapphires and diamonds and fashioned with engraved gold lotus flower petals, is crafted with absolute elegance brought to life by the L.U.C 96.30-L caliber developed by Chopard's craftsmen.
Caroline Scheufele, Co-president and artistic director of Chopard, said that "Lotus flowers open and close at sunrise and sunset. It seemed fitting to equip this timepiece with a day/night indication, which is both a poetic and aesthetic watchmaking complication." The language used in this paragraph conforms to academic standards.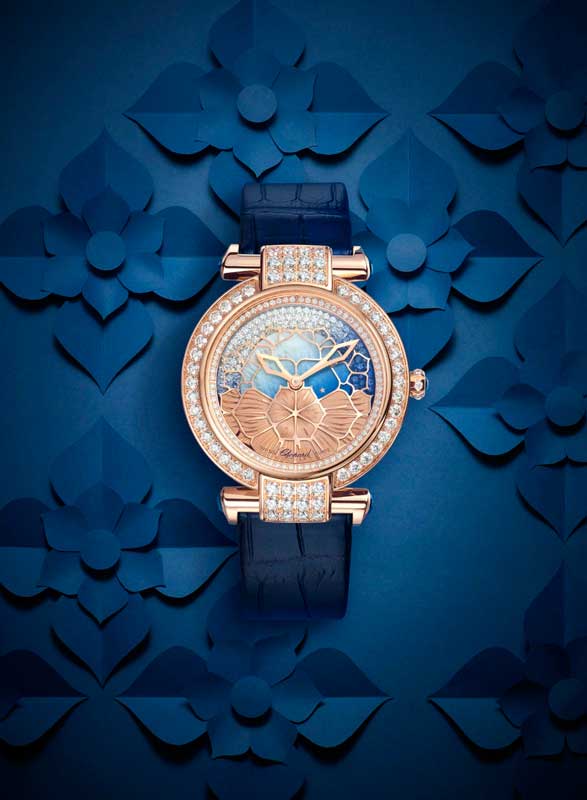 This link is apparent, particularly since the flower serves as one of the emblems for the IMPERIALE collection that first made an appearance in 1994. This shape can be found on the crown of certain models as well as on some dials. It comes equipped with a 65-hour power reserve.
Additionally, the rotating day/night indicator disk is a true masterpiece of miniature sophistication: throughout the course of the day, the sky is depicted as it changes. To achieve the day and night landscape of infinite shades, Chopard has implemented various crafting techniques.
Once midnight strikes, the sapphire dome, adorned with stars, fades into a sky of white diamonds, signaling the appearance of daylight. Until the next morning, the stars of the night cease to exist.