The Balmoral, part of Rocco Forte Hotels in Scotland, and The Macallan, one of the world's leading single malts, have merged their shared respect for the industry to create a personalized experience for whisky lovers around the world.
Keeping the Scotch amber nectar under lock and key, The Balmoral's expert Whisky Ambassadors will offer Scotch Club members a whisky counseling service, ensuring that every visit to the bar will be memorable.
Members will be offered their selected dram of The Macallan in a Lalique glass, created by the prestigious French crystal manufacturer, which provides an impeccable vessel to appreciate the delights of the renowned single malt.
The Balmoral will accept 12 members into the Scotch Club this summer, with a waiting list to be published later this year. Among the key benefits is access to be entertained with an annual complimentary whisky tasting for two with exclusive use of Scotch's elegant surroundings for two hours, always hosted and assisted by a Whisky Ambassador.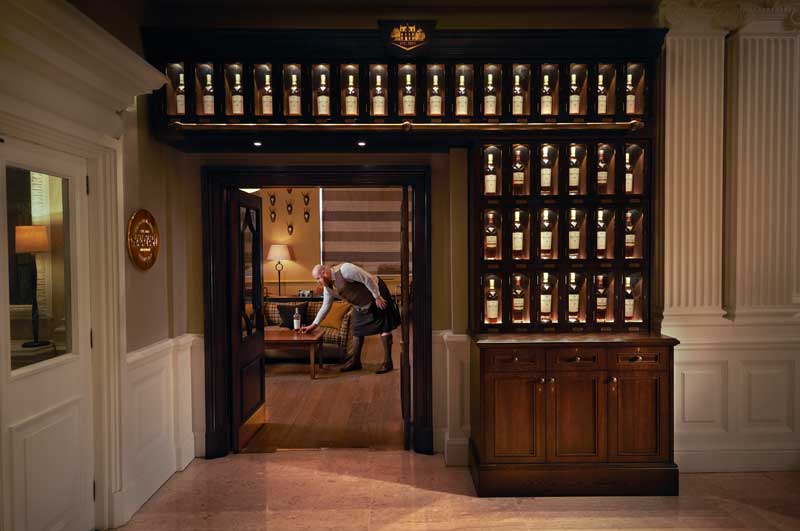 In addition, those in the group will receive advance invitations to master classes and special rates to stay in some of The Balmoral's finest suites.
The offers vary in cost, duration and bottles. For example, the top level of membership, priced at €17,700, includes a bottle of The Macallan Red Collection 40 Years Old, which is at the heart of the distinguished limited edition, The Red Collection; this is a range of rare single malt Scotch whiskies created from some of the oldest casks in the world.
Cameron Ewen, Whisky Ambassador and Scotch manager, said: "Together with The Macallan, we have created a unique membership experience in an iconic Scottish location. To have your name engraved on one of the 35 whisky stocks at the heart of The Balmoral is truly special, and something that, we hope, will be coveted by whisky fans."