The first race was held in 1927 with 77 participants. Today, it is considered the most beautiful in the world.
This 2022, the Mille Miglia race hosted 404 cars from 63 different manufacturers; the event took place from June 15 to 18 at the starting line in Brescia. Founded in 1927, the Mille Miglia is one of the most famous historic automobile events in the world.
Originally, the 1,618 km course – equivalent to 1,000 Roman miles – was a maximum race that marked Rome as a turning point to return home. It was in 1955 that the famous racing driver, Sir Stirling Moss, and sports journalist, Denis Jenkinson, won the race in a record time that, to this day, still stands: 10 hours, 7 minutes and 48 seconds, at a remarkable average speed of 97.96 mph.
Thirty years later, in 1957, the race ceased to exist in its original format, being revived until 1977 as a time trial for cars built between 1927 and 1957. Today, it still covers a thousand miles, following much of the original route through the heart of Italy from Brescia to Rome and back.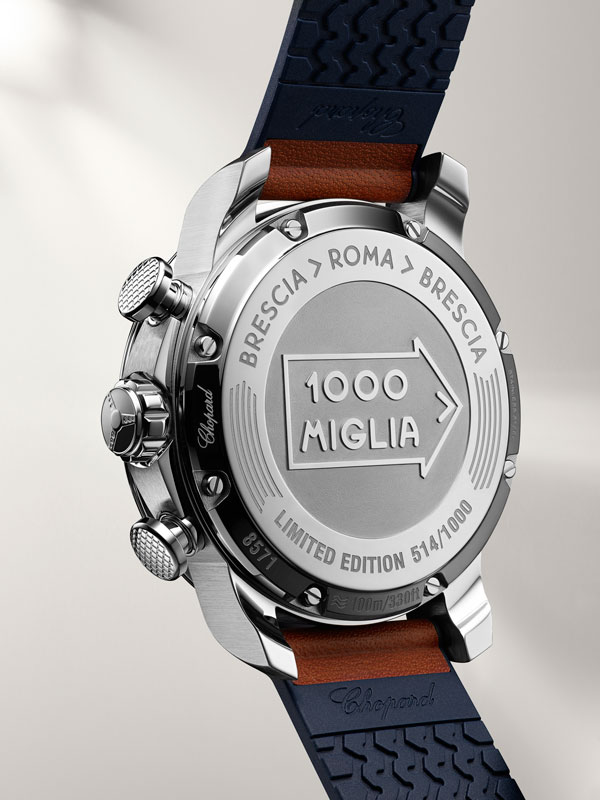 A collection of watches in tribute to a legendary race
To celebrate, as it has every year for more than three decades, Chopard presented the Mille Miglia 2022 Race Edition chronographs in two limited edition versions: one of 1,000 pieces in steel, and the second of 250 pieces in steel and 18-carat pink ethical eye, created especially for lovers of motor racing.
This year's model is distinguished from previous editions by being a collection with numerous details. The first thing that stands out is its silver-gray dial marked by a subtle circular satin-brushing, and the use of intense blue for the hands, indexes and bezel.
Its design is characterized by:
- Legibility. It is indispensable in any racing watch.
- Precision. For this reason, the model is certified by the Swiss Official Timekeeping Control. It beats at a frequency of 4 Hz and has a running time of 48 hours.
- Grip. "Grip is the sign of a mastered vehicle, of controlled driving and therefore of optimal racing performance. It is therefore logical that the watch should reflect the same quest."